-Lex Luthor
So Wayne really did do the unthinkable…….He not only sold a million copies in his first week but he OUTSOLD Jay and Ye's Watch The Throne. Yes, the tally coming out ranged from 984K to 1.01 mil copies of C4 vs 563K of Watch The Throne.
Think about this for a second……Carter 4 LEAKED, WTT didn't. WTT had all the hype in the world, C4 didn't. Watch The Throne was really good, Carter 4 really isn't. Do you see where I'm going with this……
This is either one of two things;
1.) Wayne has some really dedicated fans. And by dedicated I mean stupid.
Wayne hasn't dropped anything meaningful/significant since No Ceilings. He doesn't even go hard on his own material. I can name you AT LEAST five tracks that aren't Wayne's where he goes harder than he did on C4.
BOTTOMLINE: You Wayne stans are riding his nuts and buying his shit for his namesake. Now you do you but that's just foolish. Props to Weezy as well; putting out half assed work but still getting top dollar for it. I wish I had that much luck at my job.
The fans love him. It has to be it. No other way someone would go out of their way, spend their hard earned money on C4. Cause I sure as hell didn't. Let me give you my whole Carter 4 experience;

- downloaded it and burned the CD at work. That way I would not waste any of MY time at home or resources (a blank CD).
- listened to parts of it on the way home. 6'7" aside, President Carter, Abortion and the Intro, Interlude, Outro and John stood out for one various reason or another.
- gave it an extensive listen alone from everyone for two hours. TWO MUTHAFUCKIN HOURS. Those are two hours of my life I will NEVER get back. I could've done so much more with those two hours.
- Stomped the fuck out of the disc. Left it out on the side walk.
SIDENOTE: If you're a female and bought this in hopes of Weezy smashing you or giving a shit, well you're 0 for 2. Try with The Game though, I heard he'll follow you on Twitter like a real #TeamFollowBack fugazy if you post a pic of you buying a couple of his albums.
Well that's reason #1 as to why/how Wayne moved a million units. Reason #2….

2.) Birdman bought a million copies of that disc.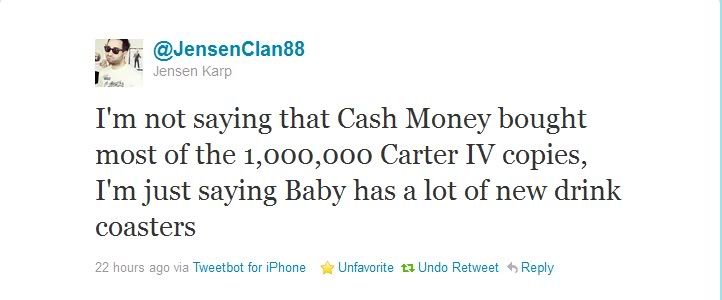 YUP. Sticking to my guns. I knew I wasn't the only person who thought this. Most fathers love their kids right? So what's the big deal with buying a million copies. Not like he still owes $7 mil on that Maybach he has on hold #babymoney.
Anyhow, props to Wayne for beating the system. I guess he got the last laugh on all of us after all. And for all the slackers out there, Carter 4 is proof that anything is possible without using your maximum effort. TO ALL THE NON BELIEVERS *Bart Scott mean mug and thug voice*